World Tuberculosis Day: strengthening initiatives aimed at eradicating this deadly disease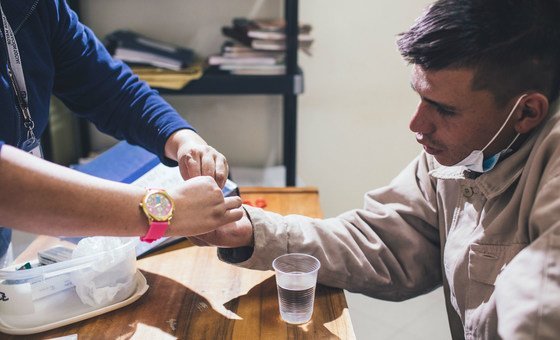 United Nations Health Agencyworld tuberculosis day' on one of its important initiatives to eradicate this infectious and deadly disease by 2030. expansion of the initiative Also announced to be done, which began five years ago.
Tuberculosis disease mainly affects the lungs, but its prevention and treatment It is possible and patients can be completely cured.
Since 2000, deaths have fallen by around 40% worldwide, but the disease still kills 1.6 million people and affects millions more each year.
equitable access to health services
WHO This important initiative of the Director General (WHO DG Flagship Initiative) was launched in 2018, through which efforts are accelerated to advance research on the eradication of tuberculosis and ensure access to health services.
Now extending the duration of this initiative, it has been extended until 2027.
It aims to provide quality care to people living with TB through early diagnosis and short-term oral treatment.
need new tools
The health agency stressed the importance of investing in tuberculosis prevention, particularly in the development of new vaccines, and proposed the creation of a council on the mobility of tuberculosis vaccines.
Currently, the only vaccine available to prevent TB is nearly a century old, which does not provide sufficient protection for young people and adults, who account for the bulk of TB transmission.
Dr Tedros Adhanom Ghebreyesus, Director General of the United Nations Agency (WHO), told reporters in Geneva said That we need to make available tools accessible to more people, but at the same time new tools are needed.
"The effectiveness of some drugs used to treat tuberculosis is declining due to rising drug resistance."
wheels up
The UN health agency initiative aims to spur action and accountability to address key drivers of TB, such as poverty, undernutrition, diabetes, HIV, tobacco use and alcohol, and poor living and working conditions.
In some cases, the drugs become ineffective in the treatment of tuberculosis, which is a major health problem.
In light of this, WHO and partner organizations are calling on country governments to urgently expedite the process of developing regulations for new oral treatments for drug-resistant tuberculosis. the call Have done.
One on tuberculosis in September 2023 at the United Nations General Assembly high level meeting will be organised.
Dr Tadros said this could prove to be a turning point if leaders make a real and sustained commitment to investing in the fight against TB.
World Tuberculosis Day: strengthening initiatives aimed at eradicating this deadly disease