The lives of millions of children threatened by the global food crisis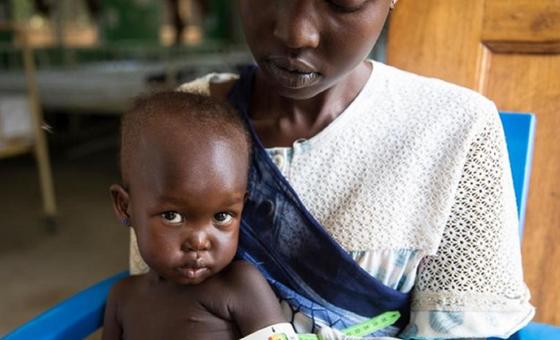 More than 30 million children under five face childhood wasting and severe malnutrition due to rising prices, ongoing conflicts, the impact of COVID-19 and climate change.
Severely malnourished children have weaker immune systems than better nourished children and are more at risk of dying from common illnesses.
One million children are victims of severe wasting, which is the deadliest form of malnutrition.
These malnourished children are 12 times more likely to die than better nourished children.
deepening danger
this call Food and Agriculture Organization of the United Nations (FAO) United Nations Refugee Agency UNHCR United Nations Children's FundUNICEF), the World Food Program (WFP) and the World Health Organization (WHO).
These five UN agencies urged the international community to prevent this growing crisis from becoming a tragedy, Global action plan against child malnutrition Progress must be accelerated.
CAM Qu Dongyu, general manager, issued a warning that this situation is likely to worsen in 2023.
"We must ensure access to affordable, healthy and sustainable food for children, girls and pregnant and lactating women. We must act immediately. To save these lives and tackle the root causes of malnutrition in all regions, we need urgent action.
five priorities
The Global Plan of Action aims to end hunger and malnutrition in Afghanistan, Burkina Faso, Chad, Democratic Republic of Congo, Ethiopia, Haiti, Kenya, Madagascar, Mali, Niger, Nigeria , Somalia, South Sudan, Sudan and Yemen. treat children suffering from acute malnutrition in the countries most affected by this serious crisis.
Faced with these growing needs, United Nations agencies five specific actions A draft has been prepared.
Analysis, advocacy and collaboration
These include accelerating the analysis of determinants, ensuring regular screening for essential maternal and child nutrition, and providing special nutritious food products as emergency food aid.
United Nations Refugee Agency (UNHCR), High Commissioner of ), Filippo Grandi, said:UNHCR We are working hard to analyze and improve our goals so that we can reach the most vulnerable children in displaced and refugee populations."
Partners stressed that scaling up these actions, in a coordinated way, would be essential not only for prevention and treatment, but also to save lives.
United Nations World Health Organization WHO chief Dr Tedros Adhanom Ghebreyesus said: "The global food crisis is also a health crisis, and it's a vicious cycle: malnutrition leads to disease, and disease leads to malnutrition.
"To protect the lives and health of children in the most affected countries, urgent support is needed now, including ensuring essential access to healthy food and nutrition services, especially for women and children," said she declared.