Omar slams GOP 'Islamophobia' amid committee impeachment proposal: 'They don't agree' with Muslims 'having a voice'
Rep. Ilhan Omar, D-Minn., accused Republicans of Islamophobia on Sunday after House Speaker Kevin McCarthy decided to kick him out of the House Foreign Affairs Committee for what he did described as anti-Semitic remarks.
Omar appeared on CNN's "State of the Union" Sunday alongside Reps. Adam Schiff, D-California, and Eric Swalwell, D-California, after McCarthy removed the latter two from the House Intelligence Committee, citing national security concerns.
Omar, who has apologized in the past for repeating anti-Semitic tropes, said Republicans were targeting her because she was Muslim.
"He is politically motivated, and in some cases motivated by the fact that many of these members do not believe that a Muslim refugee, an African, should even be in Congress, let alone have the opportunity to serve on the business committee. strangers," she said.
SCHIFF USES TIKTOK APP BIDEN BANNED TO COMPLAIN ABOUT HAVING BEEN DISMISSED HOUSE INTELLIGENCE COMMITTEE
CNN anchor Dana Bash chimed in, saying Omar "has said it before" and it looks like she's "accusing Kevin McCarthy of racism."
"I mean, I'm not making any accusations," Omar replied. "I am just stating the facts. You remember Donald Trump came to my state and said that Muslims, Somali refugees were infiltrating our country. You remember Marjorie Taylor Greene coming to Congress after Rashida [Tlaib] and I took an oath and said Muslims are infiltrating Congress. Do you remember [Lauren] Boebert saying I was a terrorist. What did McCarthy do? He said, 'She apologized, and we don't have to worry about her Islamophobia.'"
"These people are okay with Islamophobia," she continued. "They're okay with the trafficking, in their own way, of anti-Semitism. They're not okay with a Muslim having a voice on this committee."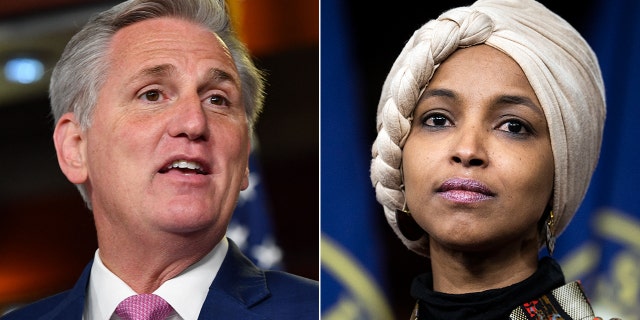 OMAR, BOWMAN, FAR-LEFT ACTIVISTS CALLING CLARENCE THOMAS TO BE DISMISSED
Omar had previously called McCarthy "racist" and "xenophobic" for trying to remove her from the Foreign Affairs Committee.
McCarthy said he was removing Omar from his post because she upset many of her colleagues in the past with controversial anti-Israel statements that highlighted anti-Semitic tropes.
She once said, "It's all about the Benjamins, baby" to explain why McCarthy slammed her for standing up to Jewish country. She also drew backlash for a remark comparing the US and Israel to Hamas and the Taliban.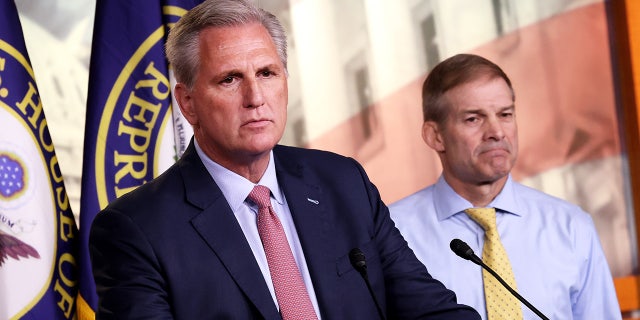 McCarthy, as Speaker of the House, has the power to approve committee appointments proposed by Minority Leader Hakeem Jeffries. While McCarthy had the power to remove Schiff and Swalwell from their select committee without a vote, a full House vote is required for Omar's removal.
McCarthy can only afford to lose four votes by passing the resolution to impeach Omar, and Reps. Victoria Spartz, R-Ind., Nancy Mace, RS.C., and Ken Buck, R-Colo., said that they would vote against him.
TOU
Rep. Greg Steube, R-Fla., is also recovering from injury at home, which leaves McCarthy with no wiggle room.
TOU' Lawrence Richard contributed to this report.
[gptOmar slams GOP 'Islamophobia' amid committee impeachment proposal: 'They don't agree' with Muslims 'having a voice'
[/gpt3]