New council focused on developing TB vaccine, hopes to save millions of lives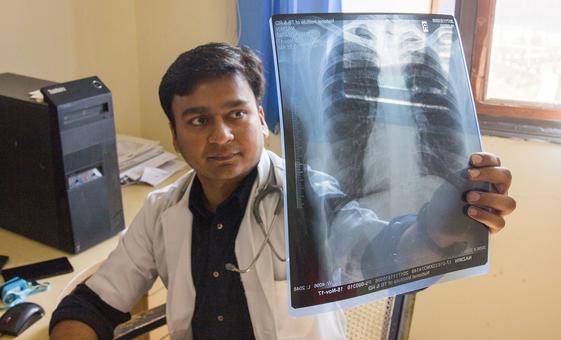 Tuberculosis is the second deadliest infectious disease after the global COVID-19 pandemic and the 13th leading cause of death worldwide.
Chief Executive Ghebreyesus announced the establishment of a "Tuberculosis Vaccine Accelerator" council, during a high-level panel at the World Economic Forum meeting in Davos, Switzerland, on Tuesday.
In his remarks, he said that one of the main lessons of the COVID-19 pandemic is that innovative health programs can be implemented quickly if given political priority and adequate funding.
The head of the UN agency noted that no vaccine has been licensed for tuberculosis in the past century, despite the disease's profound impact on human health.
"The challenges posed by TB and COVID-19 are different, but the steps that accelerate science, research and innovation are the same."
"Immediate and direct public investment; charitable support; and contact and dialogue with the private sector and communities.
Director General Ghebreyesus said we are confident that such high-level coordination will also be beneficial in the area of ​​TB.
formidable challenge of tuberculosis
Through this new TB-focused council, he aims to bring together funders, global agencies, governments and TB patients.
It has been said that with this it will be possible to identify and remove the obstacles that hinder the development of the vaccine.
Tuberculosis is caused by a bacterium that mainly affects the lungs. It spreads through the air when a person infected with TB coughs, sneezes or spits.
Treatment and prevention of this disease are possible, but despite global resolutions to end this disease by 2030, there are no signs of reduction in cases of this disease.
In 2021, more than one million people fell victim to tuberculosis infection and 16 million people died.
Drug resistance is a major problem and around half a million people develop drug resistance each year.
the only vaccine
Currently, only Bacillus Calmette-Guérin/BCG, which was developed in 1921, is licensed as a vaccine against tuberculosis.
With the help of the BCG vaccine, there is some success in preventing the severe form of tuberculosis in newborns and young children.
However, this is not an adequate defense for adolescents and adults, who account for approximately 90% of TB transmission worldwide.
The United Nations health agency recently commissioned a study focusing on investment in a TB vaccine, which suggests that with a 50% effective vaccine over a 25-year period, 76 million cases of TB could be avoided in young people and adults.
Possible rescue
Additionally, for every dollar invested in a 50% effective vaccine, a total of $7 in healthcare cost savings and increased productivity is possible.
Additionally, 8.5 million lives could be saved and $6.5 billion could be saved in costs for TB-affected households, especially in the poorest and most vulnerable communities.
World Health Organization According to the WHO, with the help of a 75% effective vaccine, it is possible to prevent 110 million new cases of tuberculosis infection and 12.3 million deaths.
A high-level United Nations meeting is due to be held this year, where countries will review progress towards resolutions made in a political declaration adopted in 2018.
The organization called this a significant opportunity in terms of the response to the virus and past failures, which may encourage the development and distribution of new types of TB vaccines.
if you want to read this article from the original credit source of the article then you can read from here
.