A woman dies every two minutes during pregnancy or childbirth
For one lakh of live births in 2020, there were 223 maternal deaths, showing a slight decrease from 227 in 2015 and 339 in 2000.
World Health Organization reported that the majority of deaths during pregnancy or childbirth are preventable, but if reduction efforts do not progress, by 2030 more than one million additional women's lives could be at risk.
Tedros Adhanom Ghebreyesus, chief executive of the organisation, said: "It is shocking that pregnancy…is still tragically a dangerous experience for the millions of women around the world who do not have access to dignified health care. and high quality".
The head of the UN agency drew attention to regional disparities in access to health care and stressed the need to ensure that women and girls have access to essential health services before , during and after childbirth.
He said that it is important to ensure these services for the full exercise of their reproductive rights.
The world is slowly emerging from the shadow of the COVID-19 pandemic, and research shows that exposure to the coronavirus may increase risk during pregnancy.
Experts have stressed that more research efforts are needed to fully assess the true extent of this global health disaster on maternal deaths.
slow progress
United Nations health agency report, Trends in maternal mortalityIn this study, information was collected on maternal deaths at national, regional and global levels during the year 2000 to 2020.
According to the report, there were two 87,000 lakh maternal deaths globally in 2020, showing a slight drop from three 9,000 lakh in 2016.
According to the organization, this happened despite countries' pledges to implement the Sustainable Development Goals agenda in 2015, which set a target of fewer than 70 maternal deaths per 100,000 live births by 2030.
The report shows that concrete progress has been made in reducing maternal deaths from 2000 to 2015, but major progress has been stalled and, in some cases, reversed.
unjust circumstances
270 million women do not have access to modern methods of family planning. Experts say that due to inequalities in income, education, race, ethnicity, the risks are heightened for marginalized women.
These women have the least access to essential maternity care, yet they are most likely to have pre-existing health conditions during pregnancy.
The report was prepared by the United Nations health agency, United Nations Maternal Mortality Estimates, on behalf of the Inter-Agency Group, which includes the World Health Organization, the United Nations Population, the World Bank Group and the Population Branch of the United Nations Office. for economic and social affairs.
Dr. Natalia Kanem, Executive Director of the United Nations Population Fund, expressed concern that large numbers of women still die during pregnancy and childbirth.
Expressing his anger, he said the situation of more than two lakh 80,000 deaths in one year is completely unfair.
"We can do better – and we must – by investing urgently in family planning and closing the global shortfall of more than nine million midwives, so that every woman receives the life-saving care she needs.
"We have the tools, knowledge and resources to prevent these preventable maternal deaths, all we need is political will."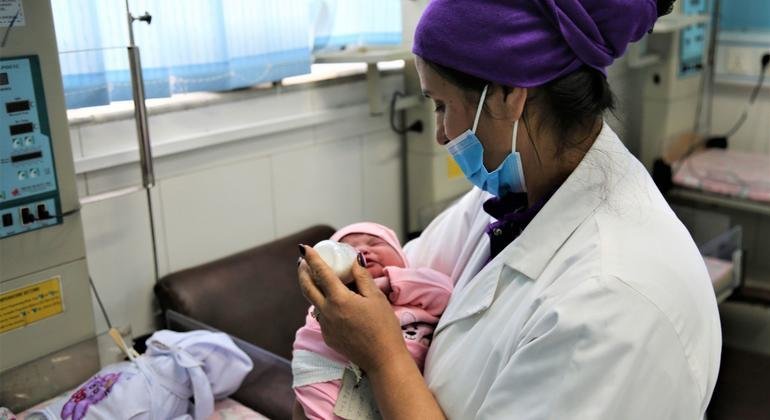 Violent conflict and poverty: a deadly condition
An important finding of the report is that maternal deaths occur mostly in the world's poorest countries and countries prone to violent conflict.
In 2020, 70% of all maternal deaths occurred in sub-Saharan Africa. At the same time, in 9 countries facing severe humanitarian crises, the maternal mortality rate (551 maternal deaths per 100,000 live births) was more than double the global average (223 maternal deaths per 100,000 live births).
The leading causes of these deaths are severe bleeding, high blood pressure, pregnancy-related infections, complications from unsafe abortion, and pre-existing health conditions, including malaria and HIV/AIDS, which are worsen during pregnancy.
Eight prenatal checkups have been recommended, but statistics show that even four such checkups are not possible for almost a third of women, nor can they receive postnatal care.
A woman dies every two minutes during pregnancy or childbirth